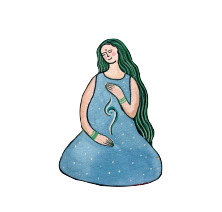 According to an official statistic, a woman consumes around 150kg of menstrual hygiene products in her lifetime on average, most of which are disposable. If buried, it would take around 800 years for a majority of menstrual hygiene products to biodegrade completely. If burned, it would emit toxic gas and cause air pollution and also may lead to acid rain. If we replace plastic products with eco pads, it would be friendlier to our earth.


Besides, there are many chemical substances in plastic pads. Some of the producers add artificial fragrances in order to cover the odor. These are unfriendly to our body, and these odors will continue for several days even after the end of the period. When you start using eco pads, you will find that there is only little iron smell because the cotton absorbs sweat and your uterus and vagina is able to breathe. Using eco pads helps your body feel comfortable and get relief from the burden of the period.
An eco pad is a replacement for a disposable plastic pad. Eco pads are washable, reusable and eco-friendly. They are made of 100% cotton. The contact surface consists of organic cloth, giving your sensitive body part a comfortable and a burden-free experience.
✿ Is there any community to engage with for receiving more information about eco pads and learning about personal experiences from users?
✿ What is the material of eco pads?
✿ How to start my eco pad journey?
✿ How many eco pads I would need for a whole cycle of a period?
✿ How to select my own pads?
✿ How often do I need to change an eco pad?
✿ How long would an eco pad last?
How to use and Wash?
As long as there's sufficient water to clean and space to dry. You can bring a bag or a pouch to store the used pads.
✹ How do I wash my used eco pads?
Refer to our 4 steps:
Rinse, soak, wash
and dry, or check out the pictures and text in the introduction.
✹ How do I wear a Lovelady eco pad?
✹ How to fold a used pad?
✹ Can I use a brush to clean blood stains?
✹ Do eco pads suit frequent traveler?
✹ Why does the fabric color fade away after washing?
Knowing safety and hygiene issues
✿ Is it normal to find some little brown and roundish particles on the surface of a pad?
The little roundish particles are cottonseeds. Feel Easy!
✿ How would I know if a pad is washed properly or not?
✿ Can I use Hot water to wash an eco pad?
✿ Will I get infection by using eco pads?
✹ Can I select colors and patterns of eco pads?
Because the fabrics are selected in cloth shops in Kathmandu on a weekly or monthly basis, when one batch of cloth is sold out, the next batch will usually be totally different. If you order online, it is not practical to make a color or pattern selection. If you would like to select colors, we welcome you to visit our partner stores or our head "Stand Roots." Find more details in our
World Store
.
✹ What's inside the Moon gift package?
✹ If I want to buy Lovelady eco pads in a store, where can I go to?
✹ Where can I purchase Lovelady eco pads online?